[Company Name]

Zen Foods Co., Ltd.

[Address]

11/F, Sandoz Centre, 178-182 Texaco Road, Tsuen Wan, New Territories, Hong Kong

[Contacts]

Tel: General (852) 2592-8833 Sales Division (852) 2592-7911
Fax: 852-2592-7944

[Business Contents]

Import and distribution of fresh food products (fresh fish, fruits and vegetables, Wagyu beef) and frozen food products (tuna, Wagyu beef, pork, chicken)

[Established]

2003 October 16

[Capital]

HKD1,000,000

[Executives]

Chairman and executive director – HIMURO, Toshio
Managing director – AOTA, Daisuke

[Number of employees]

45 personnel

[Number of clients]

Approximately 700 shops

[Main Bank]

HSBC Hong Kong

[Group Company] ZENFOODS GROUP Website

Zen Foods Japan Co., Ltd. Website
5F, 3-16-9 Tsukiji, Chuo-ku, Tokyo 104-0045, Japan
Tel: (81) 3-6204-9422 Fax: (81) 3-6204-9423
Zenshokuhin (Macao) Co., Ltd.
Alameda Dr. Carlos d'Assumpcao No.181-187, Centro Comercial Do Grupo, 12G, Macau
Tel: (853) 2875-2897 Fax: (853) 2875-2264
Zen Foods (SGP) Pte. Ltd.
101 Kallang Avenue, #02-13 Victoria Wholesale Centre, Singapore 339508
Tel: (65) 6204-1216 Fax: (65) 6204-1286
Zen Foods Enterprises (Canada) Ltd.
#2000-1066 West Hastings Street Vancouver, BC V6E 3X2
Tel: (1) 604-812-7139
Zen Foods Trading (Shenzhen) Co., Ltd.
Room 2612, 26/F, Oriental Plaza, 1072 Jianshe Rd., Louhu District, Shenzhen, Guangdong, China
Zen Foods (Thai) Co., Ltd.
71 Golden Pearl Hotel Building, 1st Floor, Room 1, Soi Sukhumvit 101/1, Bangchak, Phrakhanong, Bangkok 10260, Thailand
Tel/Fax: (66) 2-000-7896
广州四洲膳和貿易有限公司
Room 1104, No. 1, Jinsui Road, Tianhe District, Guangzhou, Guangdong, China
J-VINIFITY CO., LTD. Website
11/F, Sandoz Centre, 178-182 Texaco Road, Tsuen Wan, New Territories, Hong Kong
Tel: (852) 3521-1573 Fax: (852) 2592-7944
GO-EN Co., Ltd. Website
11/F, Sandoz Centre, 178-182 Texaco Road, Tsuen Wan, New Territories, Hong Kong
Tel: (852) 2668-1026
The word "Zen" can have many meanings in Japanese:
Zen as in 【Shi-Zen】 means Nature, which nurtures people and bestows us with blessings.
Zen as in 【Zen-shyu】 (Zen sect.) teaches to eliminate the unnecessary and come face to face with the essentials. Recognized worldwide, these teachings represent Japan and the Japanese spirit.
Zen as in 【Sai-Zen】 means aiming for the best results out of human actions and behaviors.
I feel that each of these words expresses uniquely Japanese aesthetics and their pursuit that has formed Japanese culture.
【Zen】 also means lacquerware called japan, which is used when entertaining guests with Japanese food, we named our company Zen Foods Co., Ltd., with pride and ambition of "being a company that introduces and spreads Japanese food culture throughout the world", starting with Hong Kong.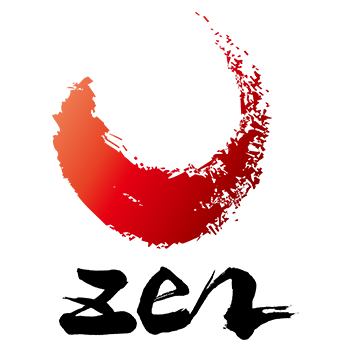 Our company logo represents four concepts.
The vermilion circle represents lacquerware round tray. Called japan in English, lacquerware symbolizes Japan. We take pride in bringing the Japanese culture with the products we carry. Our mission is to deliver these with care and bring delicious Japanese food to our customers' tables.
The semicircle also represents the smile that delicious food brings to the mouth. We hope to make everyone smile with the products we deliver.
The stroke to the upper right represents our hope to see everyone involved in our company rise to the future.
Finally, the vermilion color also represents tuna, we started out as a trading company specializing in tuna 15 years ago. This company color, chosen so we never forget our original ambitions, represents our determination to continue providing tuna as our forte.